For Sale & Gifts,
please go to "What's New" for the details.
Free worldwide courier fee for the purchase at HK$6,000.
Free local (Hong Kong) delivery with SF Express courier.
Product Name
2006 Zhongcha Brand Yiwu Original Mountain Green Big Tree Wild Tea Cake (Classic Collection) Dry Storage 380g
Factory
Zhongcha Brand
Ingredient
Puerh (Puer / Pu-erh)
Nature
Raw Tea (Sheng Puerh)
Year of Production
2006
Storage
Dry Storage
Weight

380g

per one tea cake (+/-11g including wrapping paper)
Stack (Tong)

Seven tea cakes

in one bamboo stack
Availability
Available at Cloud's Tea House Retail Store & Online Store, available while stock lasts.
Tea Broth of 2006 Zhongcha Brand Yiwu Original Mountain Green Big Tree Wild Tea Cake (Classic Collection) 380g
The tea broth of 2006 Zhongcha Brand Yiwu Original Mountain Green Big Tree Wild Tea Cake (Classic Collection) 380g is thick, rich, sweet and smooth, with slightly aged Puerh tea flavour. Apart from the natural soft feeling of Yiwu taste, the wild taste of wild tea is quite complicated. If you put a little bit more tea leaves (e.g. 12g vs 200cc), the tea broth will be thicker with more details and texture.
With the thick and rich tea broth, you can feel the mellow flavour of the aged Yiwu taste. However, it is not bitter, but just right. For tea lovers who like to have strong tea sensations, you are highly recommended to use more tea leaves. The tea broth will taste great and even better. While you drink along every infusion, the soft and mellow tea rhyme occupies the surface of the tongue for a long time with the cool, sweet and pleasant aftertaste.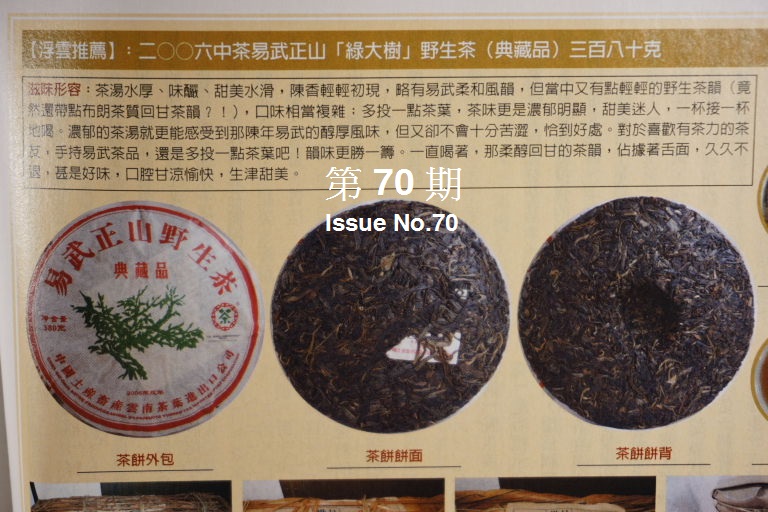 The above was the Cloud's recommended tea cake with such a great sensation in the article from issue No.70 of Chinese Tea Magazine, Puerh Teapot Magazine.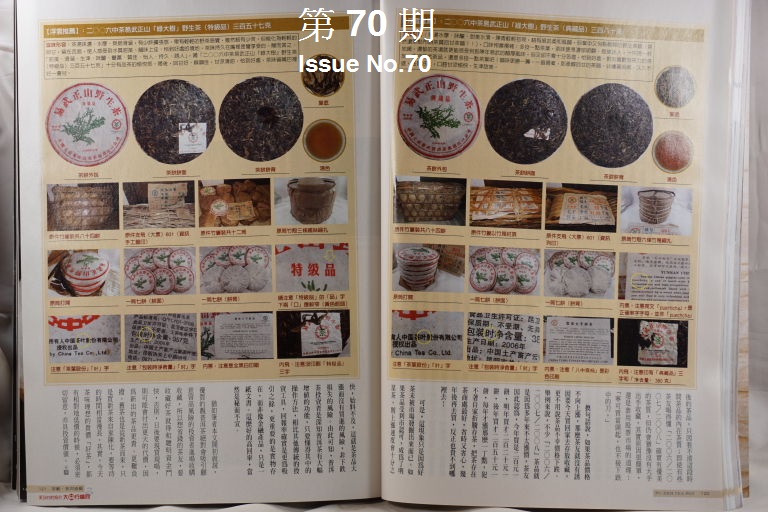 [One of The Last Batches of Tea Product with Chinese Word "WILD"]
2006 Zhongcha Brand Yiwu Original Mountain Green Big Tree Wild Tea Cake (Classic Collection) 380g is one of the last batches of tea product, which was legally allowed the Chinese word "WILD" to be printed on the wrapping paper. According to the laws of China, the Chinese word "wild" (野生) was prohibited to be printed or indicated wheresoever on the wrapping paper effective from 2007.
Wild Tea
The term "Wild Tea" has been banned by China from using in commercial tea products since 2007. In the early days, the merchant using the name "Wild Tea" was just to increase the sales because the market loved this term. Actually, the genuine wild tea is the tea leaves growing in the natural forest and having no artificial domestication nor cultivation. For these genuine wild tea, the local people from national minority name them as the "Tea of Bitterness", which is not suitable for daily drinking.
The tea name "Wild Tea" using in a general commercial tea product is actually referring to the cultivated wild tea (野放茶), which meant that it was artificially cultivated and managed at the beginning, for example, in the time of late Qing Dynasty and early Republic of China.
Later, due to the changes of political situations, the tea gardens were abandoned and had no management for many years, but the tea trees planted inside the garden still grew tea leaves and then the leaves withered naturally. After no artificial management, the tea trees were undergoing natural development. There was no artificial fertiliser and pesticide for decades.
Since the cultivated wild tea grew in accordance with the law of natural ecology, without any human intervention up to decades (or even a hundred of years), these cultivated wild tea (野放茶) contained very rich substances providing extraordinary good and plentiful tea tastes.
Yiwu is one of the Six Ancient Great Tea Mountains.
According to the Qing Dynasty document, Dianhai Yuheng Zhi (滇海虞衡誌), "Puerh tea is famous to the world… These great Puerh teas were obtained from the Six Ancient Great Tea Mountains, which are Youle (攸樂), Gedeng (革登), Yibang (倚邦), Mangzhi (莽枝), Manzhuan (蠻磚) and Mansa (漫撒). Surrounding the eight hundred miles of these mountains, there are hundreds of thousands of tea makers going deeply into the mountains to pluck tea and sell to tea traders who transported and sold the Puerh teas to the rest of China."
Mansa (漫撒) is today's Yiwu, which was the historical tribute tea for the royal family in the Qing Dynasty. "Yiwu Cheshun Hao Tea House" was once awarded the wooden plaque "Ruigong Tianchao" (瑞貢天朝) by Emperor Daoguang (道光) of the Qing Dynasty, making Yiwu Tea even more famous.
Nowadays, many tea lovers already know the famous tea production areas in Yiwu, such as Mahei (麻黑), Luoshui Dong (落水洞), Guafeng Village (刮風寨), Zhangjia Wan (張家灣), Dingjia Village (丁家寨), Baohe Tang (薄荷塘) and so on.
Related articles written by Cloud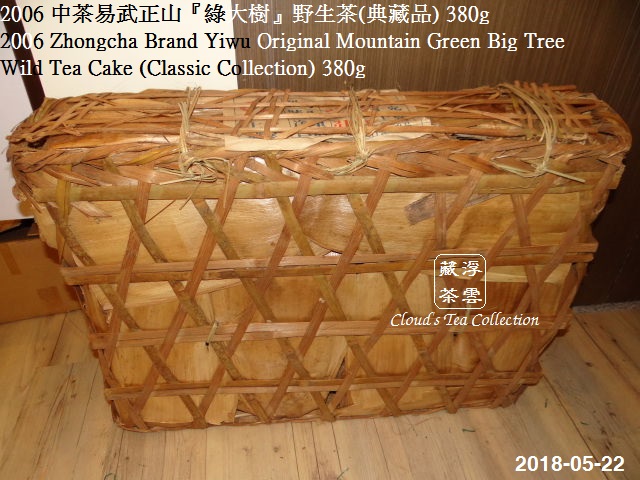 Silver Prize in a blind tasting event in a tea magazine "Pu-erh Tea Pot Magazine (Chinese) (Issue No.70 - September 2019)"








Brewing Tool:
Use a tea bowl (Gaiwan) or a purple clay teapot.

Amount of Tea leaves: 10g or one third of the brewing utensil's volume.

Before you brew: Rinse it with boiled water once, it will not be drunk and thus will not be counted as the first infusion.

Brewing method:
Add boiled water and brew for:-
5 seconds (1st infusion),
10 seconds (2nd infusion),
15 seconds (3rd infusion),
20 seconds (4th infusion),
30 seconds (5th infusion),
45 seconds (6th infusion),
60 seconds (7th infusion),
90 seconds (8th infusion),
and brew it as many times as you want until the tea broth is not strong enough.

Yiwu tea is well known for being soft and tasty. For the aged taste of Yiwu tea, it is further wonderfully delighted with aged aroma and aftertaste. If you put a little bit more tea leaves (e.g.

12g vs 200cc

), the tea broth can be thicker with more details without increasing the obvious bitterness.



The reason why Yiwu Tea is attractive to tea lovers is because Yiwu Tea has a unique Yiwu aroma, taste and flavor. The tea broth and flavor of Yiwu tea is sweet, smooth, thick, mellow, vivid, deep, round and full. In fact softness and mellowness are the most outstanding features of those good teas from Yiwu Original Mountains.

If tea lovers find an overwhelmingly strong and bitter taste in so-called "Yiwu Tea", it is highly suspicious that the tea may not be the genuine Yiwu Tea. Many tea connoisseurs, who have been drinking Puerh tea for a long period of time, will finally return to the basics and choose the soft and gentle Yiwu Tea as their daily tea after tasting, searching and looking for all kinds of exciting flavors in the market.

Ultimately, when tea lovers are getting older, their bodies are unable to drink too much tea broth with overwhelmingly strong stimulation. Only the aged Yiwu Tea is so comfortable and charming after drinking a nice one.



Storage means the Conditions of the Tea Cakes
"Storage" of Puerh tea always confuses novices. Warehouse means the place for storing stuff or stocks. However, the Dry Storage, Natural Storage and Wet Storage of Puerh tea are not referring to the storage conditions of the warehouse. In fact, Dry, Natural and Wet Storage are the terms for describing the storage status (i.e. ageing condition) of the tea cake itself. In other words, these 3 terms are referring to the degree of wetness of a tea cake. If a tea cake is affected by high humidity, we will describe it as "Wet Storage". If a tea cake is affected by low humidity, we will describe it as "Dry Storage".


Health functions of Puerh tea
In the famous Supplement to the Compendium of Materia Medica (《本草綱目拾遺》) written by Zhao Xuemin (1765, the Qing dynasty), Puerh tea was described as "the first choice to refresh people's brain from too much drink, effective in promoting digestion and reducing phlegm, clearing away the stomach-heat and producing the body fluid. In particular, it tastes mild and slightly sweet, good for dispelling fats and detoxification, and promoting inner circulation."
Recommended Products
2006 Zhongcha Brand Yiwu Original Mountain Green Big Tree Wild Tea Cake (Superior Collection) Dry Storage 357g


[80618633]
2380.00

2006 Cloud's Raw Puerh Collection Series No.1 (Dry Storage 357g)


[80601734]
2480.00

2008 Blended by Mr. Pak Shui Ching - Nanqiao Green Big Tree Menghai Early Spring Aged Tree Tea (Specially Ordered Tea) 357g (Dry Storage)


[80818033]
1380.00

2007 Badashan Brand Yiwu Puerh Tea Factory Yepiao Xiangqi Yiwu Original Mountain Ecological Raw Tea Cake(Dry Storage 400g)


[80706044]
2080.00

2007 Badashan Brand Yiwu Puerh Tea Factory Xiuling Ming Xi Yiwu Mountain Ecological Raw Tea Cake (Dry Storage 400g)


[80703844]
1280.00